AL NAFOURA LEBANESE RESTAURANT
Al Nafoura is a melting pot of Lebanese design, ambience and cuisine. Built over two spacious levels to provide a relaxed atmosphere, the textured sand stone walls and terracotta floor vividly contrast with the richly colored handcrafted artifacts to emphasise the Mediterranean and Middle Eastern ambience.
There is one private dining room which could accomodate up to 16 persons, ideal for special occasions or business meetings along with an outdoor terrace to enjoy shisha and traditional sweets. An open kitchen with vertical rotating spit roasting will slowly cook shawarmas to perfection and large wood-fired oven in which an assortment of breads is baked.
Discover authentic Middle Eastern cuisine and enjoy signature Haruf Ouzi (braised Lamb Shank Ouzi style served with Oriental Rice, assorted Nuts and Yoghurt sauce) accompanied with cold or hot Mezzeh (appetizer) such as Hommos, Tabouleh and Samboussek.
Enjoy the Shisha and traditional sweets at Al Nafoura outdoor terrace and don't miss our belly dancer performances every Friday and Saturday night at 20:00 hrs + 21:00 hrs.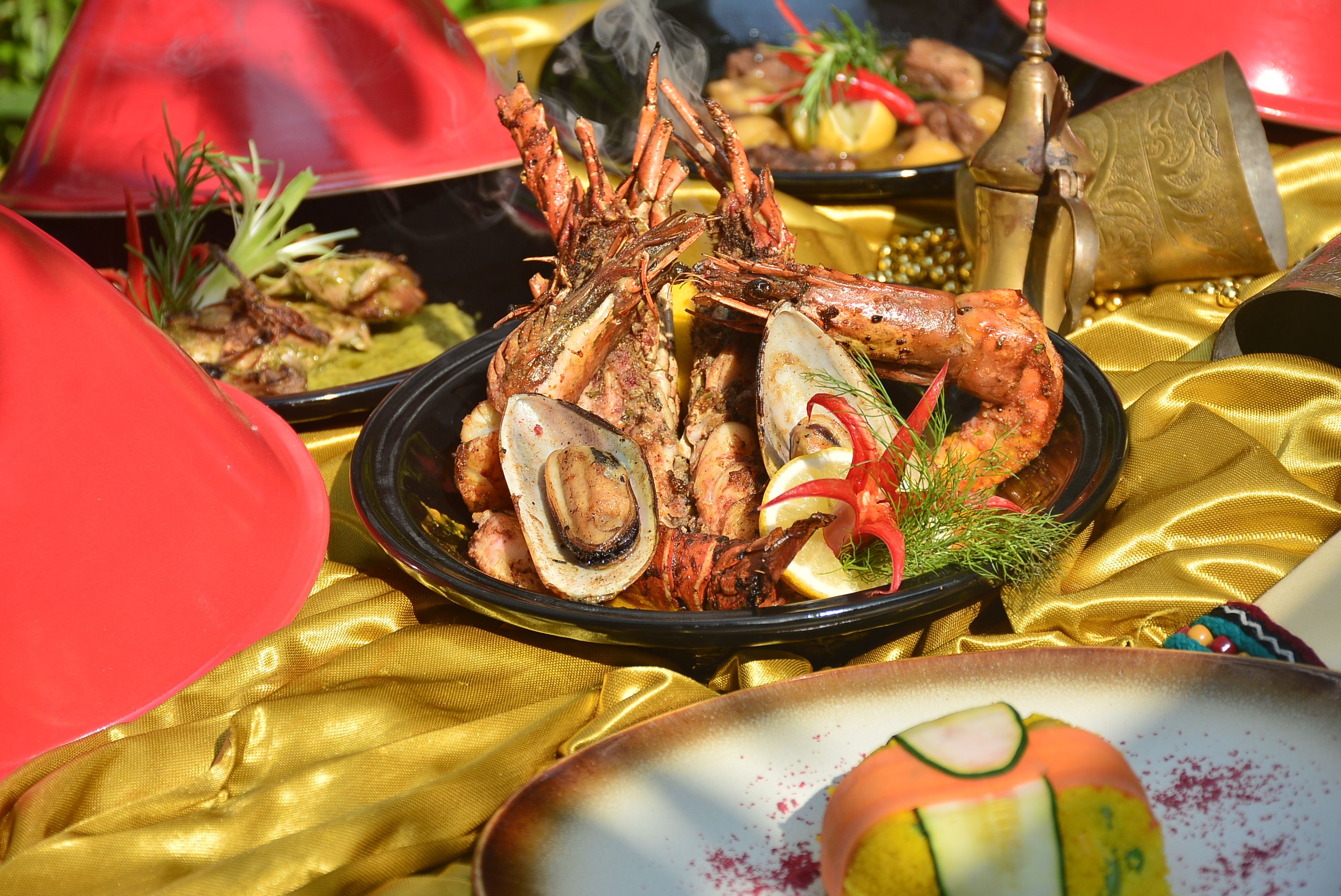 TAGINE WITH COUSCOUS
Start from IDR 155,000 ++
Monday to Friday, November 2017 | 11:30 hrs - 14:30 hrs
This one is an all-time favourite Moroccan delicacy. Feast on the traditional food Tajine with Couscous that tantalizes the senses with elegant blends of herbs and spices. Flavourful, hearty and delicious.
ARABIC MARINATED BEEF RIB
IDR 555,000 ++ for 2 to 3 persons
Monday to Friday, November 2017 | 18:30 hrs - 22:30 hrs
Spice up your dining experience at Al Nafoura with authentic Middle Eastern cuisine. If you are craving for Arabic food, prepare to be delighted by our mouthwatering Arabic Marinated Beef Rib. Simply delectable, this slow cooker beef rib is moist, tender and flavourful.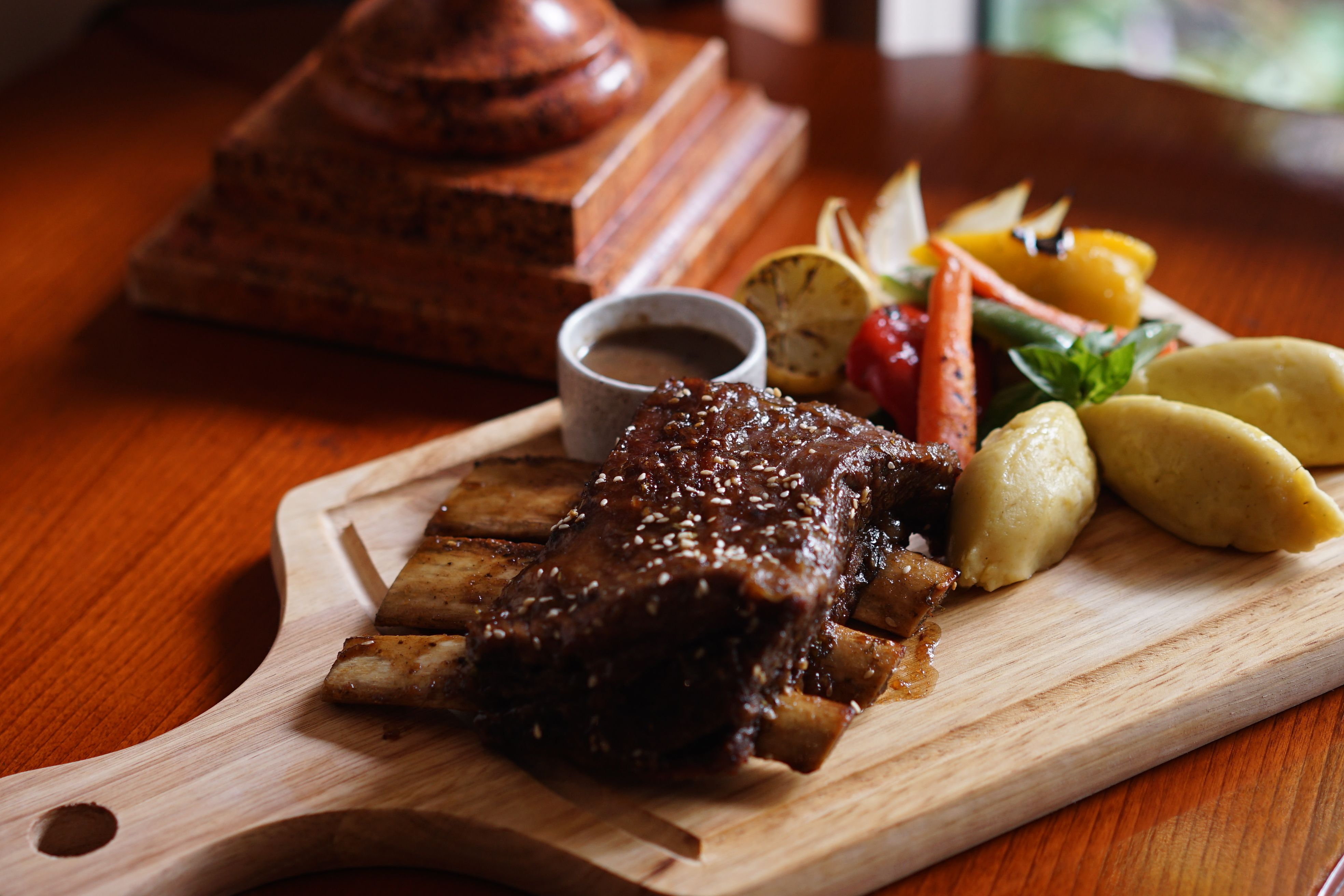 MIDDLE EASTERN BARBEQUE
IDR 375,000 ++ per person
Every Saturday | 18:30 hrs - 22:30 hrs
Our Chef prepares an array of mouthwatering special taste under the stars. Made-to-order live cooking stations showcase a tantalizing array of delectable dining experience with our authentic cold and hot mezzeh.
You surely don't want to miss our Middle Eastern mouth-watering desserts including Turkish ice cream.
QUICK SET LUNCH
IDR 250,000 nett per person
11:30 hrs - 15:00 hrs
Take a break from your day at Al Nafoura Restaurant and indulge in our delightful set express lunch menu.
Savour the 3 course choice lunch menu consisting of a lovely appetizer, main course and our special dessert platter.
The Quick Set Lunch is served within 45 minutes otherwise you eat for free.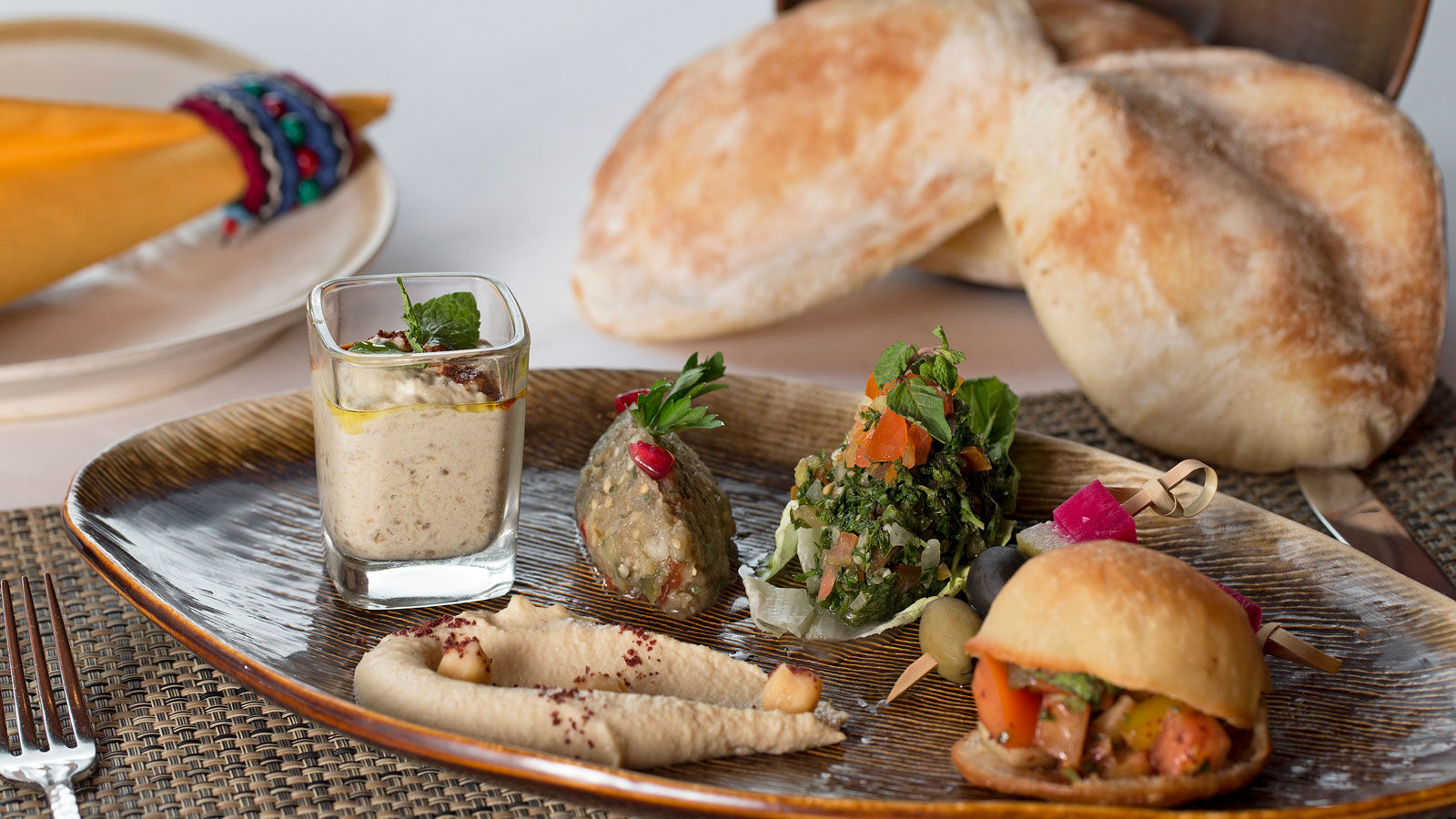 Chef
Ahmad Jamil
Cuisine
Lebanese
Atmosphere
Casual all day dining, group and private dining is available
Opening Hours
Lunch
11:30 hrs to 14:30 hrs

Dinner
18:30 hrs to 22:30 hrs

Saturday
18:30 PM to 22:30 hrs
Sunday
Close

Belly dancing on Friday + Saturday 20:00 hrs + 21:30 hrs
Reserve Your Table
By Phone: +62 21 2513131 extention:3788
By Email: dining.jakarta@lemeridien.com
SPG members enjoy up to 20% off food and beverage.
Terms & Conditions apply.